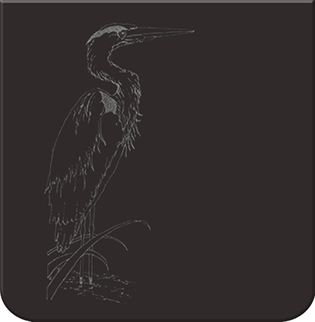 A
Cottage
Creek
Inn
Rooms
All rooms are subject to a two night minimum reservation requirement. Special circumstances may be discussed with the innkeepers. Please review our reservation and cancellation policies outlined further on our Policies page.
Please Note: Rooms are located on the second and third floors.
You can also call (425) 881-5606 or email us with special requests.
You will enjoy this spacious and elegant suite with King Size Bed and luxurious large private bath in/suite with marble Jacuzzi for two, and separate double shower. Whether you're looking for romance or solitude, the Garden Suite with its picturesque view of Cottage Creek, is truly a favorite honeymoon suite or quiet getaway. The Master Bath has a wonderful view of flower gardens and wildlife pond/gazebo. A microwave oven and mini refrigerator available in this room, as well as free wireless internet connection.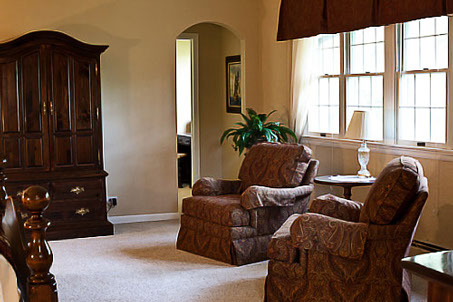 The Fleur de Lis Room is decorated in various shades of earth tones and accented by the Fleur de Lis symbol. Enjoy the only room with a natural gas fireplace and antique desk. This room has a beautifully tiled shower and a private balcony. An antique desk and beautiful sitting area has a quaint French appeal. It is located at the top of the stairs on the third floor. Wireless internet connection available.
The Stephanotis Room offers a marvelous view from the balcony by day, or for romantic starlit night. A real favorite for Honeymoons or extended stays, this room offers space galore, with gabled windows, and sky lights for a light and airy feeling. Extras include - Private bath, jetted tub, Queen Size Bed, twin bed, TV, VCR, triple dresser, phone and mini-refrigerator. You might just catch sight of an unsuspecting blue heron or other wildlife visiting the creek or the pond (3rd person $20 extra). Free wireless internet connection.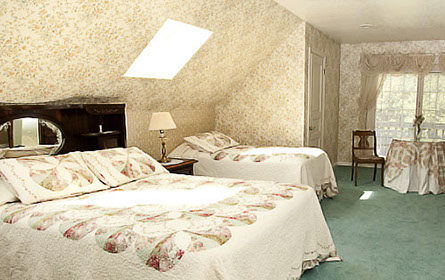 Soft blue wall paper and white lace valances cast a Victorian glow to the Blue Heron Room, and the Queen Size Brass Bed, antique nightstands, and oak secretary create a special touch of traditional beauty. A private bath, a table for two, and a splendid view of the wildlife pond and gazebo make this room one of the favorites. Exceptional view of the gardens! Wireless internet connection available.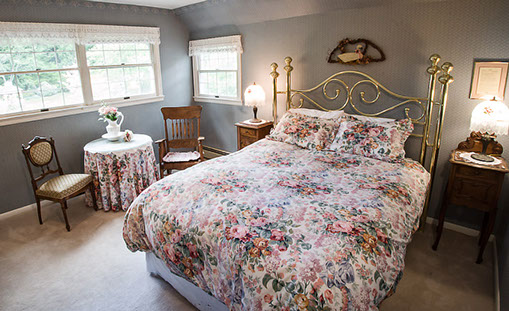 The Rose Room is decorated in various shades of white and soft pink Laura Ashley wallpaper, a quilt with soft pink roses and mint green ivy with coordinating window coverings. A beautiful stenciled garland of roses and ivy, created by our daughter Nancy, border this elegant room with the rose-carved antique Queen Size Bed. A Private bath across the hall, and a magnificent view of Cottage Creek make this room a cozy and enjoyable place to retreat. Wireless internet connection.